£66,096
RIFT Avg customer claim
£44m
Total value of RIFT claims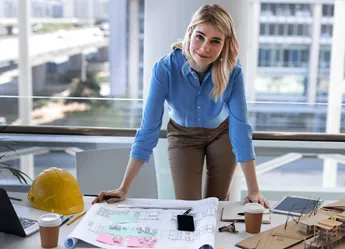 My Designs Are My R&D Lab
You don't need to be running a laboratory to qualify for R&D Tax Credits. If you're solving real-world problems in your sector, you could have a valuable claim.
Examples of qualifying activity:
Designing bespoke features.
Testing, prototyping and improving energy efficiency
Working with heritage or listed structures.
Tackling acoustic, thermal or light requirements.
Using existing techniques in new ways.
Seeking BREEAM, Passivhaus or LEED certification.
Discover your R&D tax credit eligibility
Why Work With Us?
The R&D tax credit scheme is an especially rewarding, but it is also a very technical subject. With many years experience under our belt working within R&D, we're in a privileged position to have helped architects and related construction sectors maximise their R&D tax relief.
With a nurturing approach, RIFT R&D go an extra step by:
Offering regular visits to your premises if needed to discuss, review and capture R&D activity as needed, to maximise your benefit.
Creating bespoke data capturing methods tailored to your business, to capture future R&D activities undertaken without being disruptive to your business.
Carrying out as much of your R&D leg work as possible. From identifying eligible projects, we carry your R&D baton through writing technical narratives and crunching those notoriously difficult R&D calculations. 
Real examples of R&D within the Architecture industry
Example 1:
Nature of R&D: Novel architectural solutions
Overview: A number of innovative projects were undertaken including the provision of a natural sanctuary environment for three beluga whales – the first in the world -, previously held in captivity, thus unsuitable for release into the wild. Provision for a puffin hospital, a Puffling (fledging puffin) hotel and a Puffin exhibit.
Eligible expenditure identified: £429,977.51
Tax relief generated: £81,695.73
Example 2:
Nature of R&D: Specialist design works.
Overview: The design specialists engaged in a number of innovative projects, including challenging builds on restrictive heritage sites; unique projects, such as a rotating home, undertaken for Channel 4, and a fully-equipped office space contained within a Nissan van.
Eligible expenditure identified by RIFT: £84,396
Tax relief generated: £12,783
Example 3:
Nature of R&D: Novel architectural solutions
Overview: A number of innovative projects were undertaken including demolishing and replacing the existing, run down extensions to the Corbett Theatre in a way that did not impact on the theatre's structural integrity. The new buildings also needed to be designed and built in such a way as to compliment the theatre and be in keeping with the surrounds whilst complying with strict Grade II limitations.
Eligible expenditure identified by RIFT: £2,357,902.77
Tax relief generated: £448,001.51


Speak to us
Our technical teams specialise in hunting down all your qualifying R&D costs and turning them into a serious financial boost for your business.
Get in touch