The Office for National Statistics (ONS) is the body responsible for collecting, analysing and reporting key facts and figures that affect the economy and society of the UK. It's the largest independent organisation of its kind, handling everything from the once-a-decade census in England and Wales to conducting surveys of the public covering their lifestyles and opinions. Basically, when the ONS talks, the UK listens. When it gives you a statistic, good or bad, it's worth paying attention.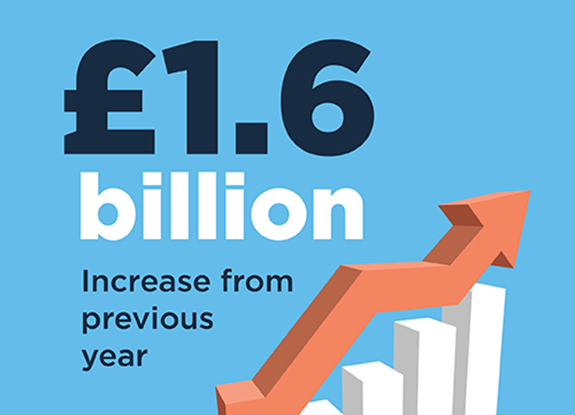 The ONS report on R&D expenditure for 2017 makes for particularly informative reading, whatever sector you're working in. Overall, the numbers being crunched here are actually pretty encouraging, given all the "economic uncertainty" we've been hearing about more or less daily.
The UK government's set its sights on boosting R&D development throughout the country, with a fairly ambitious target of getting it as high as 2.4% of our Gross Domestic Product by the time we reach 2027. Obviously, that's a bit of a mountain to climb and we're not going to reach it overnight, but the signs show were heading in the right direction.
The UK's total R&D expenditure reached a respectable £34.8 billion in 2017. To put that in perspective, it's an increase of £1.6 billion over the previous year. As a 4.8% overall increase, it shows that things have been generally speeding up. The long-term average annual increase since 1990 has been 4.1%, so this is a pretty decent figure to be seeing.
As a percentage of the UK's GDP, total R&D expenditure for 2017 was 1.69%. That's only a modest increase over 2016's figure of 1.67%, of course. It shows how much ground we've still got to cover to hit the eventual target of 2.4% of GDP by 2027. It also puts the UK below the European Union's provisional estimate of 2.07%. Even so, these aren't terrible numbers to be looking at given the turbulent economic and political backdrop they're playing out against.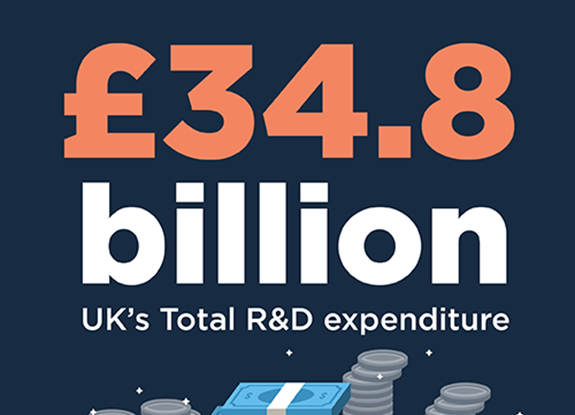 To put that 1.69% figure in perspective, it means the UK is ranked as 11th in the world for 2017 for R&D expenditure as a percentage of GDP. Obviously, we'd like to score ourselves a higher ranking – but again, progress is definitely being made.
Another interesting point to notice in the report is that, for the 3rd year in a row, funding from abroad for research and development in the UK has dropped. The figure for 2017 hit £5 billion, coming in at 10.2% down from its 2014 peak of £5.6 billion.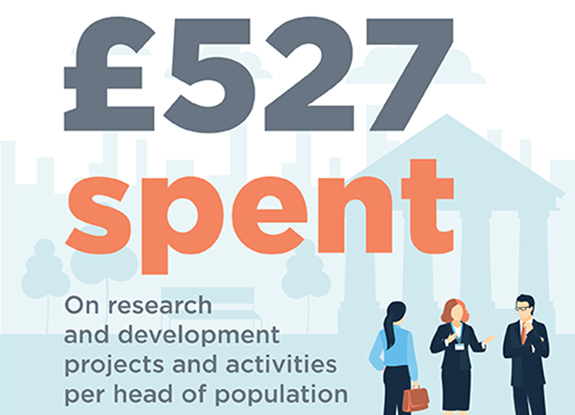 Looking at the numbers in another way, we see that 2017 had the UK spending a grand total of £527 on research and development projects and activities per head of population. Breaking that down by region shows England spending £554 per person, followed by Scotland with £446, Northern Ireland with £371 and Wales with £238.
These numbers are actually pretty typical of the way R&D is traditionally done in the UK. However, it's critical to note that a great deal of the research and development going on in this country simply isn't being reported. So much of what goes on in every sector could qualify as R&D for claiming tax relief, but businesses never realise that they're owed money.
The figures for 2017 reveal that England's total expenditure reached £30.8 billion. That's 89% of all the R&D money being spent in the UK over that period. Scotland came a distant second at £2.5 billion (7% of the total), with Wales and Northern Ireland both hovering at around 2% each with £744 million and £695 million respectively. Looking even closer reveals that England itself is heavily weighted toward London, the South East and the East of England. At a combined total of £18.2 billion spent, those 3 areas alone accounted for 52% of all the R&D expenditure for the whole UK in 2017.
As for some of the real positives we can draw from the ONS report, one thing that really jumps out is that R&D is decidedly on the rise. In fact, it's been going up fairly steadily since the R&D Tax Credits scheme first launched back in 2000. Not every sector is getting the full benefits yet, of course.
The pharmaceutical, software and manufacturing industries have really got to grips with the scheme, as you'd expect. These sectors are consistently making the most of their qualifying projects and expenditure. On the other end of the scale, though, there are several industries that could really do with speaking up about the R&D they're doing. The biggest culprit here is probably construction. Despite being one of the oldest and more relentlessly innovative sectors in the world, the building trade still only accounts for 3% of the total R&D Tax Credits claims submitted each year to HMRC.
As for what this all means in real terms, UK business are continuing to pull their weight on the R&D front. The country's business sector spent £23.7 billion on innovating in 2017, which is 4.9% up from 2016's figure of £22.6 billion. Pharmaceuticals R&D pumped out the most expenditure, at £4.3 billion, with vehicles and parts coming in second with £3.6 billion.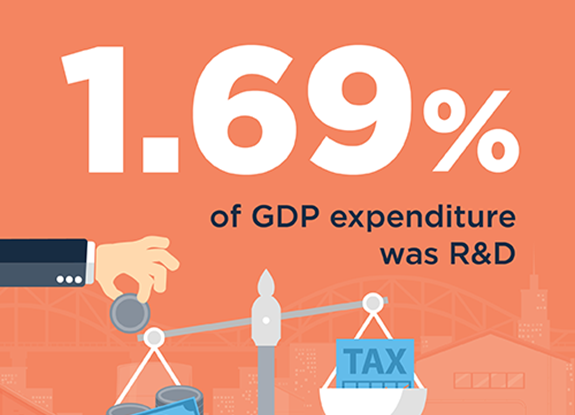 All told, 68% of all UK R&D spending came from the business sector, and RIFT is proud to help and support innovative businesses of all sizes. Putting our expertise to work, we're enabling UK companies to pinpoint all their qualifying projects, activities and expenditure. R&D Tax Credits claims can be complex, but our specialist teams are making sure businesses always get the very most from their innovations. As more and more people come to understand our message about the importance and value of R&D tax relief, RIFT is reaching out further than ever before. From forward thinking start-up SMEs to established firms with RDEC claims to make, you're better off with RIFT.
Get credit for your business innovation in these challenging times with research and development tax credits claim assistance from RIFT. Find out more about our R&D tax credits experts, deep dive into the world of business innovation with our other insights, or contact RIFT R&D today to find out how we can maximise your benefits.